We get this question all the time, "Why would anyone use a staffing company to fill their position needs when they can just post it themself?". Staffing agencies are an integral part of the success in many industries such as accounting, healthcare, construction, mechanical, electrical, plumbing, and day-labor.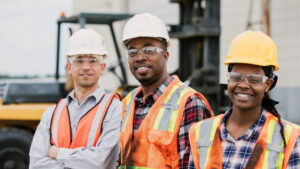 Staffing agencies have come a long way. The days of general laborers lining up at the agency's door at 5 AM, companies calling in needing help, handing out slips of paper to the worker, returning at the end of the day with a signed slip of paper so they could get paid wasn't that long ago. This required brick and mortar locations to be located strategically in major metropolitan areas. This method was excellent for the local community the agency was located in but wasn't efficient. As a side note, I am surprised they never made a tv series about day laborers and the staffing agencies that supply them. The characters and stories I have heard from "back in the day" could provide endless stories and laughs. Nowadays, it is about databases, talent management systems, skill evaluations, entire profiles of data in the cloud, providing analytics on who should be the best fit. All this happens before picking up the phone.
Alright, back to "Why would someone use a staffing agency?". I will make this article a little self-serving *insert smiley face emoji* and discuss specifics as it pertains to the skilled trade staffing industry. If you have never considered using a staffing agency, you might not know what questions to ask. However, if you do consider using a staffing agency, some good questions to ask include:
Do you have a good pool of candidates that meet my need?
How do you track candidates' performance from past jobs?
Do you have benefits, incentives, and other perks available to your workers?
Do you provide the proper coverage (workers comp) if a worker gets hurt, and how does that affect me?
Do you provide some sort of guarantee that the candidate will meet my needs?
How long does a candidate need to work before hiring them for my company?
Well, I keep skirting the question, "Why should I use a staffing company?". If you are in HR or a hiring role, you know that a lot more goes into finding the right candidate than posting on Indeed or ZipRecruiter. Finding a staffing company specializing in your need is crucial because when you post a job, you only capture people looking for a job during the days it's posted. What if your perfect candidate was looking last week or last month? Good staffing agencies create relationships and, in many cases, have candidates ready to go. For smaller companies just getting started, the process of hiring someone isn't just a "handshake, and I'll see you on Monday." The process of I-9's, W-4, direct deposits, providing benefits, safety policies, employee handbooks, and now Covid-19 requirements, it is safe to say it can be overwhelming. And one missed signature or improper I-9 can quickly close a small business.
Having the proper workers' compensation for the job is also essential, staffing companies have dedicated staff to handle only workers' compensation. Every state has its' own requirements; documents need to be delivered at the appropriate time to stay compliant to let them know what to do IF they have an accident. Now, suppose your worker has an accident. In that case, some states allow you to direct care some require you to provide other documents, most staffing companies have binders full of documents for every scenario.
So if you have made it this far, staffing companies have a purpose. It allows small companies to have the hiring resources of a larger company, protecting them from many of the pitfalls that prevent them from succeeding. It helps larger companies remain fluid, ramping up seasonal or project-related labor needs without taking on the added cost of a full-time employee with benefits and other company obligations. In the end, you will need to decide if the difference in the pay rate and bill rate is worth having someone else taking on much of the risk but hopefully, now you have a better understanding of why someone would use a staffing company.
Thank you for reading. Superior Skilled Trades is a national skilled trades staffing provider. Visit www.SuperiorSkilledTrades.com or call (888) 316-0692 for more information.